Using one of the best telescopes for seeing planets can enable you to observe Jupiter, Saturn, Venus, Mars and further afield. With each planet in our solar system having its own beautiful, unique world — it's no wonder astronomers want to take a closer look.
Whether it's the phases of Venus, great storms in the Jovian cloud tops, or the enchanting rings of Saturn, there's so much variety to enjoy in the night sky. While the planets in the solar system require different telescopes and accessories for clear views, there are some common features to look out for.
The planets, compared to constellations and galaxies, appear small in the night sky but are relatively bright — making them perfect night sky targets for any telescope that focuses on high magnification and optical resolution. Surprisingly, even a smaller telescope can give great planetary views.
From years of testing, reviewing and our team of experts getting their hands on a wide array of telescope types, we've put the very best telescopes to observe planets in our solar system into a single guide. In order to cater to everyone from beginner astronomers to seasoned skywatchers, from those with a tight budget to those looking to make a premium investment, we've ranked them based on their performance, reliability, and durability and have included models that span complexity and price points. We've also highlighted the best current telescope deal ahead of Amazon Prime Day.
Not sure if you need a telescope to view planets? Why not check out our overall Best telescopes guide, or if you're just getting started on our page, check out the Best beginner telescopes.
Best telescopes for seeing planets deal June 2023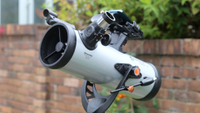 Celestron StarSense Explorer LT 114AZ: was $239.95, now $187 on Amazon

Save 22% on the Celestron Starsense Explorer LT114AZ as we gear up for Amazon Prime Day. This telescope boasts huge magnification for getting up close and personal with the moon and other planets.
---
Best telescopes for seeing planets in 2023
Best telescopes for seeing planets in 2023
In our Celestron NexStar 8SE review, and sitting at the number one spot in the computerized/go-to section of our best telescopes guide, we found it to deliver outstanding optics, and it was easy to see why it is one of the best-selling telescopes on the market. The 8-inch aperture lets in a ton of light, giving you breathtaking views of the planets and even far-off deep-sky objects.
Although spending just over $1500 is a substantial upfront cost, the build quality and the flexibility to add many compatible accessories will expand your options for what you can do, especially if you plan to explore the world of astrophotography. The motor is smooth and accurate to allow for those beautiful stacked long-exposure images. If you have a budget to match the price tag, we have no hesitation in encouraging you to make this scope your new best astronomy friend.
There's a database of over 40,000 celestial objects to choose from, but if you can't decide what to look at, 'tour mode' will guide you through popular objects in the sky relative to the time and date you're observing.
The NexStar 8SE is the best in the NexStar line-up in terms of having the largest aperture and, hence, superior light gathering, but it is also the most expensive. With the smaller Nexstar 6SE you will be able to see tiny craters on the moon, Saturn's moons and belts as well as clouds and dust storms on Mars. As a guide, the 8-inch aperture of the 8SE can gather 78% more light than the NexStar 6SE, so it will be able to show you much more detail in faint distant deep-space objects.
The alternative NexStar models offer the same red dot finder, SkyAlign and GoTo technology but with smaller apertures are the Celestron NexStar 4SE (which you'll also find in our best beginner scopes guide), Celestron NexStar 5SE and the Celestron NexStar 6SE.
---
Planetary imaging is an addictive hobby, and thankfully, you can get started on any telescope with a mount that tracks the sky. But if you plan to get serious about capturing our neighboring worlds, a telescope with a large aperture is vital.
The CPC Deluxe 1100 EdgeHD features a huge 11-inch high-performance main mirror, capable of resolving the surfaces of the most remote planets. It provides greater resolution, allowing more details to be recorded by the imaging sensor. On more forgiving targets, such as Venus and Jupiter, it sees remarkable detail, and the skilled observer can even pick out landmarks on Mars without too much difficulty.
The CPC mount is robust and dependable, offering excellent tracking for lengthy imaging sessions, and it can be easily converted to an equatorial platform with the use of a wedge for deep sky astrophotography. Although it is rather heavy, two people can easily assemble and disassemble this telescope in the field in just a few minutes. Of course, with just one eyepiece in the box, you'll need to budget for more, but at this size, it's the camera that sees the most benefit. If planetary imaging gets its hooks into you, at least you know there's an upgrade to aspire to.
---
The Heritage-90 Virtuoso's compact size belies its power. It folds a massive 1.25m focal length into a tube that is just 28cm long using two mirrors and a meniscus lens, enabling it to achieve its maximum effective magnification with a comfortable 7mm eyepiece. This makes it a lot more portable than some of the other models we've included on this list.
The Maksutov-Cassegrain design is known for its 'refractor-like' performance, which provides better contrast than a Newtonian reflector of the same aperture. This is great for preserving the rich colors of planetary surfaces and atmospheres (such as Jupiter's bands and moons), which are easy to admire in the Heritage-90. Although its basic red dot finder isn't the best we've seen, the motorized Virtuoso mount's smooth slewing controls make positioning objects simple.
The mount can be upgraded at any time via Sky-Watcher's Synscan GoTo device, giving it the ability to find more than 40,000 objects in the sky for you automatically. It can also track the sky to counteract the Earth's rotation, keeping your object of interest in the field of vision. If you want to fast-track to the complete GoTo system and are interested in a more powerful telescope with a similarly compact design, you might want to check out the Heritage-90's big brother, the Skymax-127 Virtuoso GTI.
---
This Celestron Inspire 100AZ classic refractor telescope is a good place for beginners to begin their exploration of astronomy, just like Galileo and other early pioneers did. It is particularly good for seeing planets.
Now sitting at around the $350 price point, it is a reasonable price for a good quality beginner telescope. It is a simple telescope designed for seeing the moon, planets and some deep sky objects. Although it doesn't have any fancy go-to motors or app connectivity, it does come with Celestron's Starry Night software in its basic edition, which can be downloaded to help you learn about the night sky. This may suit some people who want to engage physically with their telescope.
In our Celestron Inspire 100AZ review, we were able to see Andromeda (M31) and some bright star clusters, but the 4-inch aperture doesn't let in as much light for anything beyond that.
While it is a relatively lightweight instrument, the long 660mm optical tube and large tripod mean it will take up quite a large footprint if you're planning on leaving it out in your house. Still, it is easy to pack away and reassemble if you'd prefer to store it in between uses.
There is a novel lens cap that converts into a smartphone holder. It places your phone over the eyepiece so you can shoot some simple astrophotos, which gives it an advantage over other models of similar cost from other brands.
---
The Sky-Watcher Explorer 130 EQ2, which costs less than $300, is a great option for people who are serious about starting out in the field of planet-observing but don't want to break the bank.
The Sky-Watcher is somewhat unusual in its price category because it includes a superior equatorial mount. This mount requires a little more work to set up, but once it is, it makes it much easier to track celestial objects with the Earth's rotation.
It has a good-sized aperture at 5.1 inches, which means, unlike the models above, you will be able to explore deep sky objects, albeit only the brightest ones.
While not as long as the Celestron Inspire 100AZ, the Sky-Watcher Explorer 130 EQ2's long tube length results in a focal ratio of around f/7 and makes high magnification possible. Especially when we consider that it ships with 30x and 75x eyepieces.
During our review of the Sky-Watcher Explorer 130 EQ2, using the supplied Barlow lens, we could easily get sharp views of the Jovian System (Jupiter, its rings and moons) and Saturn's rings looked impressive.
Due to its combined weight of 12.6kg, which makes it a little more difficult to transport on sky-watching trips, this telescope is best used for backyard stargazing.
---
The Omni XLT 102 from Celestron is quite a unique package that comes with a good telescope and mount combo. It doesn't require any tools and is easy to set up.
The 4-inch F/10 achromat gives fine views, and its focal length makes it a good match for some of the best planetary eyepieces. Unfortunately, only one is supplied in the box, but with the addition of a 10mm and Barlow lens, you can achieve a magnification of 36x, 72x, 100x and 200x. At this top end, the Omni XLT 102 will show you some lovely details on our neighboring planets.
Celestron also sells a 120mm model (read our Celestron Omni XLT 120 review) and a 150mm version of the same telescope, but notably, all three come with the same CG-4 equatorial mount with the larger models pushing the mount's weight limit. As such, it feels sturdy to use and dampens any vibrations quickly.
Being an equatorial mount (where the polar axis is parallel to the Earth's rotation), it takes some getting accustomed to, but once you do, you'll find that it makes planet tracking simple and easy to do one-handed. For those looking to go hands-free, Celestron offers a separate dual-axis auto-tracking upgrade kit that you can install at any time.
---
The Sky-Watcher Skymax-180 PRO was purpose-built for Solar System exploration. It produces flawless views of the planets with a wealth of vibrant details thanks to its high-resolution, long focal-length optical system, which performs similarly to a much more expensive big apochromatic refractor. With a 7.1-inch primary mirror, it also has enough light grasp to bring many of the Solar System's moons into view. The single 2-inch/ 28mm eyepiece won't make the most of this telescope's potential, so you'll need to invest a little extra, but even a comfortable 8mm or 10mm planetary eyepiece will be well tolerated by its formidable optics.

The Skymax-180 PRO is mounted on a HEQ5 PRO equatorial mount, which is great for carrying large payloads, for maximum accuracy. This allows for a variety of photography uses, ranging from high-resolution planetary and lunar imaging to deep-sky imaging. If you plan to purchase another telescope in the future, it is beneficial to 'over-mount' the scope for optimal stability at higher magnifications. This combination of features is why it is loved among visual observers and astrophotographers.
---
Celestron's Astro Fi 102 is an excellent choice for tech-savvy beginners who want to get closer to the planets. After the initial setup of the motorized mount, which can take a little time, it's a breeze to use alongside the SkyPortal app (downloadable for IOS and Android).
The app, which we found to work seamlessly during our Celestron Astro Fi 102 review, features approximately 100k celestial objects, which you can 'instruct' the instrument to slew automatically. It slews quickly and quietly, and you can even use a USB video game controller to position the scope, which is a desirable feature for gamers.
While to the touch this admittedly doesn't feel like a premium product, the materials used mean the telescope is lightweight and easily portable. Just be careful to protect it properly in transit to avoid damage.
The views offer clear close-ups of the Moon, Saturn's rings, Mars, Jupiter, Uranus, and Neptune under the right conditions and when used alongside the right eyepiece.
---
From our Celestron StarSense Explorer LT114AZ review, you'll see that the best thing to do with this telescope is to look at the moon and planets, as it's designed to give a high magnification of bright objects.
This is an affordable scope, so some compromises have been made. When viewing bright objects, you will see some chromatic aberration (color fringing), and the color isn't as accurate as you'd find in more sophisticated (more expensive) models.
The StarsSense app allows quick and easy alignment, which takes mere seconds (a dream for novice users). It is a 'push to' scope, so while the mount won't turn itself to find your chosen subject, arrows on your phone screen will help you guide the telescope into position. Turn the telescope in the direction the screen instructs you to, and once you see a bullseye on your screen, your target will be in the center of your field of view. There aren't slow-motion controls, so making precise adjustments takes some practice.
With the included Barlow lens, you will be treated to spectacular views of Saturn, Jupiter, and the moon, but don't count on this scope to see objects in deep space because it doesn't allow in enough light for that.
---
Best telescopes for seeing planets 2023: Frequently Asked Questions
Which telescope is best for viewing planets: Refractors or reflectors?
When shopping on a budget, there's an argument to be made for choosing a smaller refracting telescope than a similarly priced but larger reflector, because the secondary mirrors and struts in Newtonian telescopes perturb the incoming light in a way that reduces image contrast. For many dedicated planetary observers, a large refractor is a dream, but there are downsides. Refractors are bulky, heavy, and expensive, so compound telescopes such as Maksutov-Cassegrains and Schmidt-Cassegrains make for a good compromise.
What telescope eyepiece do I need to view planets?
There are also other optical accessories to consider when shopping for a planet-hunting telescope. Eyepieces with greater magnifications can help get larger views of the tiny planets. Astronomers should also consider Barlow lenses to help attain high magnifications of between 120-250x (within the optical limit of the telescope). This will allow you to observe in the sweet spot on most nights when the seeing is average. Here are some of the best telescopes for seeing and capturing planets.
What telescope do I need to see Saturn's rings?
This all depends on the telescope and eyepiece combination. Telescopes have a focal length and so do telescope eyepieces. But telescope eyepieces also have an apparent field of view, which when calculated alongside the focal lengths, determines the true field of view when looking through the eyepiece and telescope.
A simple way to get started calculating which telescope or eyepiece you need to see Saturn's rings is to use the follow basic formula:
Telescope focal length / eyepiece focal length = Magnification
Apparent field of view / Magnification = True field of view
You can then compare the true field of view of the combination against the size of any object you wish to observe to see how well you'll be able to view it, including Saturn's rings, Jupiter's red spot and more. But remember that surface brightness and atmospheric conditions as well as weather will ultimately decide how well you can view any night sky object, including a planet.
How we test the best telescopes for seeing planets
To guarantee you're getting honest, up-to-date recommendations on the best telescopes to buy here at Space.com we make sure to put every telescope through a rigorous review to fully test each instrument. Each telescope is reviewed based on many aspects, from its construction and design, to how well it functions as an optical instrument and its performance in the field.
Each telescope is carefully tested by either our expert staff or knowledgeable freelance contributors who know their subject areas in depth. This ensures fair reviewing is backed by personal, hands-on experience with each telescope and is judged based on its price point, class and destined use. For example, comparing a 10-inch Dobsonian to a 2.76-inch refractor wouldn't be appropriate though each telescope might be the best pick in their own class.
We look at how easy it is to set up, whether computerized or motorized mounts are reliable and quiet, and if a telescope comes with appropriate eyepieces and tripods. We also suggest if a particular telescope would benefit from any additional kit to give you the best experience possible.
With complete editorial independence, Space.com are here to ensure you get the best buying advice on telescopes, whether you should purchase an instrument or not, making our buying guides and reviews reliable and transparent.
Telescope Glossary
Aperture: Diameter of the primary mirror or lens, which allows a telescope to collect light.
Field of view: Area of sky visible through the eyepiece.
Focal length: A telescope's tube length. Short focal lengths offer a wide field of view and a small image.
Focal ratio: Also known as the telescope's speed. Small focal ratios provide lower magnifications, wide field of view and a brighter image.
Magnification: Relationship between the telescope's optical system and the eyepiece.
Unlike the deep sky, which remains almost unchanged throughout our lives, the planets constantly bring us new and sometimes surprising reasons to look again. They're easy to find and inspiring to take in — real worlds that our descendants or even we may visit one day.
Any telescope can make them look impressive, but a well-tuned high-contrast instrument is what is needed to really do them justice, and you'll be thankful to have one to hand when something special occurs, like the arrival of an incredible gas giant storm, or a night of exceptionally steady seeing that invites you to max out the power. If you plan to take your own astrophotos, it's well worth considering a telescope mount with tracking capability, altazimuth or equatorial — both are suitable for short exposures. At such long focal lengths, the Earth's rotation quickly moves things out of the field of view, and dedicated planetary imaging cameras have small sensors. Regardless of which telescope you choose, you're in for an exciting new hobby as a Solar System explorer. Enjoy the magnificent highlights of our celestial neighborhood.