One of the best lenses for astrophotography is a must-have piece of equipment if you want to take truly stunning shots of the night sky. Combined with one of the best cameras for astrophotography, the lenses in this guide will take you far beyond the realm of anything you can achieve with a smartphone camera.
Astrophotography lenses are specifically designed to excel in the low light conditions that you encounter on a night-time shoot. What sets them apart from the rest is their fast maximum apertures, allowing the image sensor to pick up more light whilst still maintaining image sharpness and avoiding excessive color fringing. This gives you the chance to capture great images of even the dimmest stars in the night sky — if you can see it, you can capture it!
If this sounds like just what you're looking for, our expert reviewers have narrowed down your search. We've tested all the best astrophotography lenses we could get our hands on and rounded them up in this definitive guide, providing you with ratings, reviews and the latest prices for each. If you're just getting started, check out our astrophotography for beginners guide and consider pairing one of these lenses with one of the best beginner cameras or best cameras overall. Seasoned pros may wish to invest in light pollution filters or one of the best travel tripods, too.
Best lenses for astrophotography deal June 2023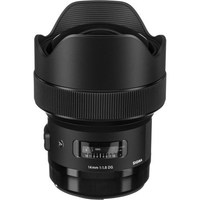 Canon EF 16-35mm f/2.8L III USM: was $2099, now $1890 at Amazon
Save over $200 on one of the best lenses for astrophotography. This sturdy and reliable lens from Canon has a flexible ultra-wide angle focal length range of 16-35mm and a fast maximum f/2.8 aperture that drinks in the light from even the dimmest of stars.
---
Best lenses for astrophotography 2023
Best lenses for astrophotography 2023 ranked
The weight was one of the very first things we noticed when conducting our Sigma 14mm f/1.8 DG HSM Art review. Coming in at 2.58 lbs, it's definitely on the heavier side for a lens, but with heft in the hand comes heft in terms of optical quality too. This lens is incredibly well constructed and also has the bonus of being weather-sealed. Although astrophotographers aren't usually out shooting in bad weather at night, this could be useful if you plan to use the lens during the day as well. For night-time shooting, the fixed focal length and extra-wide field of view make the lens ideal for capturing expansive vistas of the landscape and night sky.
The optical performance is where this lens really excels, as it is truly outstanding. Stars appear clear and sharp, even when the aperture is opened up to its impressive f/1.8 maximum, although stopping down the aperture a little will improve the coma that appears towards the corners of the image frame at its widest opening. The chromatic aberration (color fringing) is minimal even when shooting at wide apertures and you also won't encounter any significant issue with image distortion — something which certainly cannot be said for all ultra-wide lenses.
One thing to note is that the lens doesn't have a filter thread due to the bulbous nature of its front element. This may not be a deal-breaker if you're using it primarily for astrophotography, but it's something to bear in mind if you plan on using the lens during the daytime and want to be able to protect the glass better. As far as ultra-wide lenses go, the Sigma 14mm f/1.8 DG HSM Art is close to unbeatable in terms of its performance and quality.
---
The Sony FE 12-24mm f/2.8 GM comes from Sony's elite 'G-Master' line of lenses, making it one of the best-quality lenses in this guide, but also the most expensive. This lens packs a serious punch for its size and weight, coming in at only 1.87 lbs despite offering an f/2.8 aperture and an impressively wide viewing angle.
This makes it a strong competitor for those looking for an ultra-wide-angle lens without the weight, whilst still maintaining excellent build quality. The combination of a large aperture and extra-wide viewing angle means that the front glass element is large and bulbous by design. The glass is shielded by a petal-shaped integrated hood, although using a front filter isn't an option without spending money on an adapted filter system. The good news is that there's a slot in the rear of the lens for gel filters.
The image quality from this lens is nothing less than spectacular. When we reviewed the Sony FE 12-24 f/2.8 GM lens stars appeared extremely sharp in the center of the image and still very sharp in the corners throughout the full focal length range, even at the widest aperture of f/2.8. The shortest focal length of 12mm gives a whopping viewing angle of 122 degrees — perfect for capturing huge portions of the Milky Way and landscape, which can only be achieved by taking panoramas with many other lenses.
If you're looking for the very best quality in your astrophotography images and can afford to splash out, then this Sony lens is a sure winner. Whilst the price may seem steep, you're getting a lot for your buck and its flexibility means that this may be the only wide-field astro lens you ever need. If your budget can't quite stretch that far but you still want an ultra-wide-angle lens, the next one in this list may be more up your street.
---
This fully sealed lens joins Nikon's trio of professional mirrorless zoom lenses and is billed as the shortest full-frame f/2.8 ultra-wide-angle zoom in the world. At just 1 lb 7oz in weight, theNikon Nikkor Z 14-24mm f/2.8 S has a compact and lightweight construction, but still offers a wide aperture and ultra-wide viewing angle at the shortest end of the focal range.
Interesting to note is that the front element of this lens is much less bulbous than most other brands, giving you the option to attach 112mm filters to the front using the supplied lens hood. This is a nice addition, although the price of 112mm threaded filters may be off-putting. The build quality of this lens is great all round and the inclusion of a customizable Lens Function (L-fn) button allowing the user to quickly change settings without having to wade through menus is another useful feature.
Most importantly, the Nikkor has exceptional image quality with little distortion and vignetting. Coma and other aberrations are largely absent from the far corners of the image frame. The lens also sports a programmable lens control ring which, although not very useful for astrophotography, may be beneficial for daytime photography. However, astrophotographers will probably be more interested in the handy LCD display on the lens which lets them see and make changes in the dark without having to switch on a headlamp.
Overall, the various features of this astrophotography lens make it ideal for the Nikon mirrorless system, even if it's a little pricey.
---
The Canon RF 15-35mm f/2.8L IS USM uses Canon's highest quality L-series glass and is beautifully crafted, with a clean and tidy design. Exposure controls can be assigned to the customizable control ring via an RF camera body and the lens has smooth, silent focus and zoom rings. Although the lens's 5 stops of optical stabilization aren't essential for astrophotography, they are a great advantage when shooting handheld in other low-light conditions. When reviewing the Canon RF 15-35mm f/2.8L IS USM we connected it to a compatible RF body to boost IS to an impressive 8 stops.
The 15mm focal length given by this lens offers a viewing angle that is 1mm wider than the 16-35mm versions of Canon's DSLR lenses currently on the market. Filters can be easily attached via the 82mm thread on the front lens element once the hood is removed. The images produced by this lens are generally extremely sharp, but there is a slight reduction in edge sharpness when shooting wide open at f/2.8. Although this might be expected with many cheaper lenses, the Canon isn't cheap, so this is mildly disappointing, though not necessarily a deal-breaker.
The 15-35mm spans a wider and more practical focal range than other ultra-wide zoom lenses on this list, allowing you to crop photographs closer than is possible with other lenses. In our tests, the Milky Way core could be seen in glorious detail at 35mm.
The excellent performance of this lens makes it a great tool for astrophotography, but this is more than just an astrophotography lens — its versatility means the lens is also perfect for landscape and architecture photography. Although the price is steep, the Canon RF 15-35mm f/2.8L IS USM is one of the best lenses Canon has made and is highly recommended for EOS R-series owners.
---
This bright, ultra-wide 14mm prime lens is Sony's answer to Sigma's 14mm f/1.8 DG HSM Art lens. Both lenses offer the same fixed focal length and maximum aperture but there's a marked difference between the two.
The Sony FE 14mm F1.8 GM has been designed specifically for its mirrorless system, which means Sony has been able to engineer a much smaller and lighter lens than the Sigma. For comparison, the Sony weighs in at 1.02 lbs and the Sigma tips the scales at a chunky 2.6 lbs. This translates into a much better balance when the native Sony lens is fitted to a Sony camera — not to mention it's much more pleasant to carry around with you on shoots, which we were very grateful for when we reviewed the Sony FE 14mm f/1.8 GM.
The Sony FE 14mm f/1.8 GM is the widest Sony prime lens and, as you'd expect from the lenses in Sony's G-Master range, it has the usual high-resolution, weather seals and smooth focusing that we've come to know and love. The lens also incorporates a dedicated aperture control ring for manual control, which is a handy feature for quick exposure changes — particularly in the dark. The front element is fluorine-coated to repel moisture and is protected by an integrated lens hood. With minimal distortion and vignetting, star sharpness is maintained throughout the frame and towards the corners.
Coming in at a similar price to the Sigma 14mm f/1.8 DG HSM and at a much lighter weight load than the Sigma, this lens is the obvious choice for any Sony user who is looking for an ultra-wide astrophotography lens.
---
The Sigma 14-24mm f/2.8 DG HSM is another lens from Sigma's 'Art' range, which is well known for its optical quality and high-class engineering. When we reviewed the Sigma 14-24mm f/2.8 DG HSM we were struck by its similarity to the fixed 14mm focal length of Sigma's 14mm f/1.8 DG HSM Art. But the f/2.8 version has a superior zoom range of 14mm through to 24mm, making it a useful lens for out in the field.
There is always a trade-off when using zoom lenses for astrophotography and it comes in the shape of a reduced maximum aperture size of f/2.8. However, a zoom lens can offer greater versatility, allowing you to compose at multiple focal lengths from the same vantage point. This is an advantage if you don't want to be moving the camera around as much, even though, at f/2.8, the lens won't be able to absorb as many photons as its 14mm f/1.8 cousin.
Designed to work best with full-frame cameras, this Sigma lens has the same sturdy build quality that we've come to expect from the Sigma brand. Zoom and focus rings operate smoothly and the lens has rapid and almost silent autofocus — handy if you wish to use the lens for daytime use or for video. The images produced by the lens come out sharp and vibrant, with the stars presenting cleanly across most of the image frame with little to no chromatic aberration, even at the widest aperture setting. You also have various mounting options with this lens. It mounts easily to Nikon and Canon cameras, but the Canon version can also be used on the Sony E-Mount system via Sigma's MC-11 mount converter. Overall, we think this is one of the best lenses out there for astrophotography and we'd fully recommend giving it a try.
---
Canon 16-35mm L lenses are well known for their high quality, making them the lens of choice for many photographers, both amateur and professional. The popular Canon EF 16-35mm f/2.8L III USM replaces the previous Mark II and irons out many of the kinks encountered in its predecessor.
In reviewing the Canon EF 16-35mm f/2.8L III USM, we found it to be a significant step up on the Mk II in terms of quality. Canon has noticeably improved the autofocus system, diaphragm, and optics, allowing this lens to give sharper images at the edge of the frame when using the widest aperture settings and focal length. Sadly, this has come at the cost of dropping the image stabilization on the previous model, but this may not bother astrophotographers too much since image stabilization would need to be switched off for long exposures at night anyway.
You can tell that this lens was designed with astrophotography in mind since it has a useful constant aperture of f/2.8 and a focal range that offers 20mm of flexibility to play within the field. The lens is solidly constructed and a pleasure to use, with a high-speed USM autofocus system that operates quickly and accurately. Although manual focusing is usually preferred when shooting the night sky, this is a handy addition and makes this a versatile lens that can also be used for daytime shooting. The 82mm thread also means that you can add various filters of your choice.
Another highlight of this lens is its ability to correct chromatic aberration and distortion, although the eagle-eyed among you may still notice some very slight distortion at the far corners of the image. However, this distortion only becomes apparent when examining the entire image at very high magnification, so the effect will be negligible to most users. Although pricey, this lens delivers exceptional results when it comes to taking wide-field pictures of the night sky.
---
Released in 2020, the Tokina atx-i 11-20mm f/2.8 CF replaced the older Tokina AT-X 11-20mm f/2.8 AF Pro DX which previously featured in this guide (and is still a fantastic lens). But for anyone seeking a fast, ultra-wide zoom lens for APS-C cameras (either Nikon F-mount or Canon EF-mount fit) the Tokina atx-i 11-20mm f/2.8 CF is our top recommendation.
It's sleek, slim, lightweight, and brilliantly sharp. Sure, there are a few things it could do better, but optically and build-wise it's an absolute unit. It's perfect for wide-field astro work and daytime shooting simultaneously thanks to the fast maximum and constant f/2.8 aperture. The zoom is improved from the old version bumping up from 16mm to 20mm in this latest iteration making it much more versatile.
Optically, the images produced by the Tokina are very impressive, maintaining sharpness even at a wide aperture of f/2.8 and coma is also well controlled. Given the price, this lens offers excellent value for money and is probably the best ultra-wide-angle zoom lens for photographers using a crop sensor APS-C Canon or Nikon camera.
---
The Nikon AF-S 14-24mm f/2.8 ED has been around since 2008 and is a part of the 'holy trinity' of Nikon FX lenses, along with the 24-70mm f/2.8 and 70-200mm f/2.8. In our Nikon AF-S 14-24mm f/2.8 ED review it achieved very nearly full marks, so it's not surprising that this lens ranks as a strong favorite among astrophotographers.
Although no lens is bomb-proof, this one is more resilient than most and can weather almost anything you throw at it, including the occasional knock. The efficient design of this lens makes it very easy to handle, even through your gloves on a cold night shoot. Unfortunately, the petal-shaped hood is integral to the lens, so although it offers strong protection to the front element, you'll need to buy a third-party filter adapter if you want to attach any filters to it. This may prove to be more of an issue if you're looking to use the lens during the daytime as well as at night. However, the focus ring is comfortable to grip and the movement is smooth, so the lens has an overall neat design.
Stars look clean and sharp in the images produced using this lens, even at an aperture of f/2.8. There is a slight amount of barrel distortion, but it is easily corrected with a simple click in the lens profile section in post-processing software.
This lens will particularly suit full-frame Nikon users, who will love the versatility and quality of images this lens delivers. But it's worth noting that there are now newer alternatives on the market, such as the Sigma 14-24mm f/2.8 DG HSM Art which offers full weather sealing and fluorine-coated optics. However, if the extra weight doesn't bother you, the Nikon 14-24mm is still a superb ultra-wide zoom lens for astrophotography.
---
Astrophotography can be an expensive hobby, not least because this genre of photography demands the use of lenses that have wide maximum apertures, which tend to be much more expensive. Fortunately, the Rokinon/Samyang 14mm f/2.8 stands as an impressive budget-friendly option. Although this South Korean-made lens is one of the cheapest models out there, we gave it four out of five stars in our Rokinon/Samyang 14mm f/2.8 review, so it has well and truly earnt its place on our list of the best lenses for astrophotography.
The main reason that this lens can be offered to the market at a more affordable price than other ultra-wide lenses is that this lens is fully manual, meaning that you'll need to control both the focus and the aperture by hand. Astrophotographers will manually set the focus anyway, so this only becomes an issue if using it during the day.
The aperture is also straightforward to set using the manual adjustment ring near the base of the lens. It does, however, mean that there's no electronic connection between the lens and the camera attached to it, meaning no image data will be relayed with your images. Although the lens body is constructed from plastic, we still found it to be robust and lightweight.
Star sharpness is generally very good on the Rokinon/Samyang, but this does deteriorate a bit towards the corners at f/2.8, with some evidence of coma and chromatic aberrations. It's worth noting that the distortion and vignetting are also heavy with this lens, although both of these can be corrected in post-processing, so this wasn't a deal-breaker for us.
If you're a newcomer to astrophotography or you're looking for a lens that can perform well on a smaller budget, then the Rokinon/Samyang may just be for you.
---
Best lenses for astrophotography: Frequently Asked Questions
What is the best astrophotography lens for Sony?
The Sony FE 12-24mm f/2.8 G Master is, for our money, the best Sony astrophotography lens you can buy. Its ultra-wide angle focal length up to a maximum of 12mm makes it ideal for wide-field astrophotography to capture the Milky Way and more.
What is the best astrophotography lens for Nikon?
The Nikon Nikkor Z 14-24mm f/2.8 S is without a doubt our favorite astrophotography lens for Nikon mirrorless cameras thanks to its flexible focal length, fast maximum aperture and edge-to-edge sharpness. However, the Nikkor AF-S 14-24mm f/2.8 ED is probably not only the best astrophotography lens for Nikon F-mount DSLR cameras but possibly the best astrophotography lens of all DSLR-compatible lenses and was a staple of Nikon astro shooters for many years.
What kind of lens do you use for astrophotography?
For wide-field astrophotography, capturing a wide portion of the night sky and stars, we'd recommend a wide-angle lens. Wide-angle zoom lenses like the Sony FE 12-24mm f/2.8 G Master are versatile and allow multiple compositions without having to move the camera.
There's no such thing as a 'lens for astrophotography' but a fast maximum aperture is perfect to allow as much dim starlight to pass onto the image sensor of the camera as possible. Image stabilization isn't that important because shooting on a tripod is a must for astro. However, edge-to-edge sharpness will ensure chromatic and coma aberrations are kept to a minimum to retain detail in the stars.
What size lens is best for astrophotography?
Generally, the better the optics in a lens the larger and heavier it will be. When on the camera it will be stationary because of the required use of a tripod to photograph the stars so weight and size isn't too much of an issue here.
However, the size of the focal length is important, too. Anything from 24mm and wider is best for wide-field astro, though a telephoto zoom lens like Nikon Nikkor Z 70-200mm f/2.8 S-Line is better for deep-field, close-up work of specific celestial objects. Mid-range focal lengths like 50mm should work in a pinch, especially if the maximum aperture is f/2.8 and wider, but it can be frustrating to compose foreground and include enough of the night sky at this focal length.
What is the 500 rule in astrophotography?
This is a rough calculation for determining exposure length for a specific lens before star trails* appear. Take 500 and divide it by the focal length (in millimeters) of your lens. I.e. 500 / 24mm = 20.83 seconds of exposure before star trails are noticeable.

*Star trails are the blurring of the stars during a long exposure, brought on by earth's rotation.
Should I buy a prime or zoom lens for astrophotography?
Zoom vs prime lenses: Which is best?
Some photographers prefer using fixed focal length prime lenses for astrophotography and others prefer zoom lenses, but which lens is the right astrophotography lens for you? It will come down to a balance between versatility, cost, personal preference and which camera system you use.
Generally speaking, you get less distortion from prime lenses and they perform better in low-light conditions. On the other hand, zoom lenses are more versatile and offer a larger range of focal lengths. However, they do also tend to offer a smaller maximum aperture and their light gathering ability is compromised.
If you're looking for one lens to do the job, a wide-angle zoom option is a great choice as it allows you to work across a range of focal lengths in one convenient package. If, on the other hand, your priority is maximum light collection and you don't mind a fixed focal length, go with one of the bright and extremely fast f/1.8 options we've listed here. These are excellent for photographers without star trackers, when exposure times are limited. Alternatively, if you're just starting out on your astrophotography journey and don't want to spend a fortune just yet, it's hard to look past the very affordable Rokinon 14mm f/2.8 which is excellent value for money.
How much do astrophotography lenses cost?
Generally, good astrophotography lenses cost in the region of $250 to $2800 depending on the make and model of your camera. Interestingly, lenses that are suitable for astrophotography are also versatile enough for other types of photography disciplines such as landscape photography, travel, lifestyle, real estate and more.
Of course, your budget is an important part of your purchasing decision; whatever your needs and abilities, there's an option in this buying guide for you. From professional-grade Sony and Nikon lenses to more budget-friendly picks, we've made sure to include options at different price points but that still hold up as quality lenses.
What aperture value should my lens have for astro?
For astro lenses specifically, you'll want to consider lenses with fast maximum apertures of f/2.8 and wider (lenses with a lower f-number). E.g. f/2, f/1.8, f/1.4 etc. This is because they let in more light to your camera's image sensor. A wider aperture also means you can shoot with shorter shutter speeds or a lower ISO sensitivity, which is advantageous for shooting in low-light environments because it reduces camera shake blur, prevents star trails appearing and reduces image noise respectively.
Do I need any other camera gear to take astrophotographs?
The right camera accessories can be important when shooting starry skies and nightscapes. Indeed he best cameras for astrophotography are important but it's important to keep everything steady atop one of the best tripods or best travel tripods as well. To take things a step further and get even more reliable results it's important to invest in lens heaters which prevent lens fogging when shooting in colder climes and intervalometers to trigger the camera remotely, thereby reducing camera shake blur.
How we test the best lenses for astrophotography
In order to guarantee you're getting honest, up-to-date recommendations on the best lenses to buy here at Space.com we make sure to put every camera lens through a rigorous review to fully test each product. Each lens is reviewed based on a multitude of aspects, from its construction and design, to how well it functions as an optical instrument and its performance in the field.
Each lens is carefully tested by either our expert staff or knowledgeable freelance contributors who know their subject areas in depth. This ensures fair reviewing is backed by personal, hands-on experience with each lens and is judged based on its price point, class and destined use. For example, comparing a 150-600mm superzoom telephoto lens suitable for a full-frame camera to a sleek little wide-angle prime destined for a crop sensor wouldn't be appropriate, though each lens might be the best performing product in its own class.
We look at how easy each lens is to operate, whether it contains the latest up-to-date imaging technology and look at its weight and portability. We'll also make suggestions if a particular lens would benefit from any additional kit to give you the best viewing experience possible.
With complete editorial independence, Space.com are here to ensure you get the best buying advice on camera lenses, whether you should purchase one or not, making our buying guides and reviews reliable and transparent.